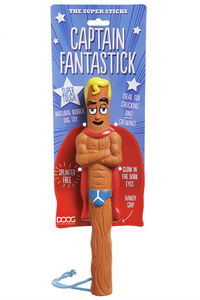 DOOG Captain Fantastick
The Super Sticks.
Strong & brave, the Super Sticks are made from durable natural rubber, so they love going on adventures to the park and are not afraid of a bit of tough play.
The Super Sticks come with a handy grip molded into the toy, and a built-in rope for flinging. Their glow in the dark eyes make them easy to find on late night trips to the dog park.
Ideal for chucking & chasing

Natural rubber dog toy

Splinter free!

Glow in the dark eyes

Built-in rope and handy grip

Product dims: 2.25""w x 1.375""d x 10.75""h

Please note that these products are NOT designed as a CHEW TOY. Please use under supervision.
---