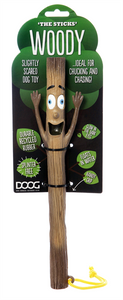 DOOG Mr. Stick Woody
The Original Stick Family.
Safer for your dog than a real stick and a whole lot more fun, 'The Sticks' are a lovable family of dog fetch toys who are not only dog friendly but eco-friendly too.
• Ideal for chucking & chasing
• Splinter free!
• Durable recycled rubber
• Glow in the dark eyes
• Floats in water
• Built-in rope and handy grip
• Product dims: 2.5""w x 1.125""d x 12""h
• Please note that these products are NOT designed as a CHEW TOY. Please use under supervision.
---